Thiago Batista de Almeida
Farm facts
Name: Macaubas de Cima
Municipality: Patrocinio / Minas Gerais
Average altitude: 1000 meters
Average temperature: 30 ºC
About your grower
Thiago since he was a child appreciates the fruits that life in the countryside can bring. Such appreciation arose from the moments when his parents, Onésimo and Jô, took him to the family farm. Born in São Paulo, he has been in the Cerrado region for 16 years with his father. Thiago developed an entrepreneurial vision, focused on business and decided to turn his admiration for the countryside into a profitable activity. Its history in the café begins in 2017, when with the support of his father and wife, he started the cultivation of coffee in a family nature. Located on the Macaúbas de Cima terroir, the Porto Feliz farm, in addition to being a port for hours of rest and leisure, has also been conducive to the production of specialty coffees. Cultivating Catuaí 62 in this area, which presents fruits with yellow color, which, with the ideal harvest and post-harvest process, result in fruits with a sweet, full-bodied drink with a unique flavor and aroma. As important as the vision of producing quality coffees, are the sustainable and social practices practiced in the daily life of the farm in order to deliver a product that serves different markets.
Production characteristics
Bags:
51.00
Coffee variety:
Catuaí amarelo IAC - 62
Processing:
Natural
Average altitude:
1000 meters
Harvest:
2021/2022
Warehouse:
Expocaccer Cooperativa dos Cafeicultores do Cerrado
About Cerrado Mineiro Region
Designation of Origin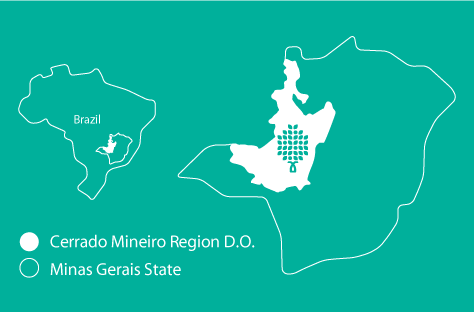 The Cerrado Mineiro Region is a world recognized high quality coffee producing origin - the first "Designation of Origin" in Brazil, located in northwest of Minas Gerais State.
Having well-defined seasons - a hot, wet summer and a pleasantly dry winter - is a strong characteristic of the region. The coffee plantations are cultivated in areas with altitudes varying between 800 and 1,300 meters, the result being high quality coffees with a unique identity.
The coffees are "Origin and Quality Guaranteed" by the Cerrado Mineiro Region - D.O. Regulatory Board.
Our official production process
The Designation of Origin oficial production process emphasizes and values the characteristics of our terroir. Only coffees grown inside the officially delimited area and that followed the rules of the production process defined by our Regulatory Board may have the Cerrado Mineiro Region - D.O. assured by the Guaranteed Origin and Quality Seal.

Producing farms must be located within the Designation of Origin delimited area;

Minimum altitude of 800 meters, reaching up to 1,300 meters;

Coffea arabica is the official specie;

Minimum quality of 80pts based on SCAA* methodology;

The use of good practices and respect to Brazilian laws;

Coffee lots must be warehoused only in the accredited cooperatives;

Only the official coffee bag, identified with the Guaranteed Origin and Quality Seal., must be used.