Lúcio Gondim Velloso
Farm facts
Name: Santa Cecilia-são Luiz Estate Coffee
Municipality: Carmo do Paranaiba / Minas Gerais
Average altitude: 1085 meters
Average temperature: 24 ºC
About your grower
Lúcio Gondim Velloso is young, however he carries the DNA of coffee culture. His grandfather is one of the pioneers who planted coffee in the Cerrado Mineiro Region in the years of 1970, in Carmo do Parnaíba city, state of Minas Gerais. Lúcio is an agronomist and takes care of the 330 hectares, which produces about 13,000 bags per year; according to the coffee grower about 50% of his annual production fits the criteria of coffees of high quality. Lúcio recognizes that the quality of his coffee passes through the excellent characteristics of the Cerrado Mineiro Region and is also the result of the work of the committed staff. Some of the postharvest employees have been working with the family for 20 years, always empowering and modernizing their concepts. In 2013 the coffee produced by Lúcio was the champion in category pulped natural at the 1st Prize of the Cerrado Mineiro Region.
Cupping characteristics
Cup score:
85.5
Aroma:
chocolate citric nuts
Flavor:
chocolate tangerine cacau citric almond
After taste:
long sweet
Acidity:
citric
Body:
dense
Production characteristics
Bags:
38.00
Coffee variety:
Guará
Processing:
Natural
Average altitude:
1085 meters
Harvest:
2020/2021
Warehouse:
Armazéns Gerais Leste de Minas Ltda
About Cerrado Mineiro Region
Designation of Origin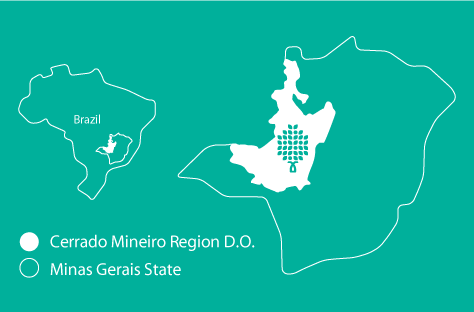 The Cerrado Mineiro Region is a world recognized high quality coffee producing origin - the first "Designation of Origin" in Brazil, located in northwest of Minas Gerais State.
Having well-defined seasons - a hot, wet summer and a pleasantly dry winter - is a strong characteristic of the region. The coffee plantations are cultivated in areas with altitudes varying between 800 and 1,300 meters, the result being high quality coffees with a unique identity.
The coffees are "Origin and Quality Guaranteed" by the Cerrado Mineiro Region - D.O. Regulatory Board.
Our official production process
The Designation of Origin oficial production process emphasizes and values the characteristics of our terroir. Only coffees grown inside the officially delimited area and that followed the rules of the production process defined by our Regulatory Board may have the Cerrado Mineiro Region - D.O. assured by the Guaranteed Origin and Quality Seal.

Producing farms must be located within the Designation of Origin delimited area;

Minimum altitude of 800 meters, reaching up to 1,300 meters;

Coffea arabica is the official specie;

Minimum quality of 80pts based on SCAA* methodology;

The use of good practices and respect to Brazilian laws;

Coffee lots must be warehoused only in the accredited cooperatives;

Only the official coffee bag, identified with the Guaranteed Origin and Quality Seal., must be used.
Origin and Quality reports
OIC Code:
002/1495/0056
City of destination:
Hamburg, Germany
Place of sealing:
Armazéns Gerais Leste de Minas Ltda
Lot code:
7898328781602786789