Ricardo dos Santos Bartholo
Farm facts
Name: Cinco Estrelas
Municipality: Patrocinio / Minas Gerais
Average altitude: 1095 meters
Average temperature: 24 ºC
About your grower
Ricardo Bartholo is a former director of a cellulose company, an almost civil engineer, a farmer by choice and a coffee grower by passion. He was born in Rio de Janeiro, but very young he moved to Lençóis Paulistas in São Paulo state to run the family farm, where he met his wife Julia, who gave him two sons, Marcelo and Gustavo. After selling his share of one company, he decided to invest in coffee farming, through a broker he met and fell in love with the Cerrado Mineiro, moving definitively to Patrocínio in 1995, consolidating the dream of being a farmer. With an associative spirit Bartholo is one of the great leaders of the Region, having been on several occasions President of Expocaccer, position that he currently holds. The Five Star Farm today has the Rainforest Alliance and Utz Certified seals, as well as being a pioneer in the UN -approved Carbon Credit sale program.
Cupping characteristics
Cup score:
88
Aroma:
Floral notes with macadamia nuances
Flavor:
Yellow-flavored coffee reminiscent of papaya and red fruit aftertaste, Intense sweetness of cane molasses
After taste:
Pronounced
Acidity:
Bright acidity
Body:
Creamy body
Production characteristics
Bags:
30.00
Coffee variety:
Catuaí amarelo IAC - 62
Processing:
Natural
Average altitude:
1095 meters
Harvest:
2019/2020
Warehouse:
Expocaccer Cooperativa dos Cafeicultores do Cerrado
About Cerrado Mineiro Region
Designation of Origin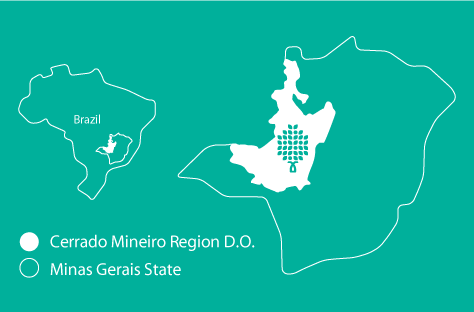 The Cerrado Mineiro Region is a world recognized high quality coffee producing origin - the first "Designation of Origin" in Brazil, located in northwest of Minas Gerais State.
Having well-defined seasons - a hot, wet summer and a pleasantly dry winter - is a strong characteristic of the region. The coffee plantations are cultivated in areas with altitudes varying between 800 and 1,300 meters, the result being high quality coffees with a unique identity.
The coffees are "Origin and Quality Guaranteed" by the Cerrado Mineiro Region - D.O. Regulatory Board.
Our official production process
The Designation of Origin oficial production process emphasizes and values the characteristics of our terroir. Only coffees grown inside the officially delimited area and that followed the rules of the production process defined by our Regulatory Board may have the Cerrado Mineiro Region - D.O. assured by the Guaranteed Origin and Quality Seal.

Producing farms must be located within the Designation of Origin delimited area;

Minimum altitude of 800 meters, reaching up to 1,300 meters;

Coffea arabica is the official specie;

Minimum quality of 80pts based on SCAA* methodology;

The use of good practices and respect to Brazilian laws;

Coffee lots must be warehoused only in the accredited cooperatives;

Only the official coffee bag, identified with the Guaranteed Origin and Quality Seal., must be used.
Origin and Quality reports
OIC Code:
002/419-8/0850
City of destination:
CAPE TOWN, AFRICA DO SUL
Place of sealing:
Expocaccer Cooperativa dos Cafeicultores do Cerrado
Lot code:
7898328781564584929