Nelson Rivelini
Farm facts
Name: Fazenda Esmeril São Martin
Municipality: Patrocinio / Minas Gerais
Average altitude: 950 meters
Average temperature: 22 ºC
About your grower
Nelson Rivelini was born in Apucarana - PR. The family history in coffee-growing has more than a century and began with Rivelini's grandfather who came from Italy. The producer tells, his mother, still pregnant with him, excelled in farming in the art of "rastelar" coffee. The coffee streets and the terreirões were always places where Rivelini felt at ease. Raised on family estates, from the age of six you had your obligations. Already adult has suffered in the inclement weather. In 1975 a frost devastated the crop and in 1978 it was the hail that zeroed the harvest. After that, Rivelini left the farm, but not the coffee. For 10 years he sold roasted coffee. But fate took him back to earth. At the end of the 90's, he became a partner of his brother in Patrocínio, Cerrado Mineiro Region. Then he bought his own land and cared for and produced quality coffee. Characteristics of the Region: altitude and climate, allied to management, technologies and mechanization; The right time to harvest and the intensive movement of the coffee in drying are essential for the producer; Rivelini explains that his property is his responsibility to turn the coffee in the yard.
Cupping characteristics
Cup score:
83.5
Aroma:
Caramel and chocolate
Flavor:
Milk chocolate, caramel, walnuts ans citric notes
After taste:
Pleasant
Acidity:
Citric
Body:
Full bodied
Production characteristics
Bags:
100
Coffee variety:
Catuaí vermelho IAC - 144
Processing:
Natural
Average altitude:
950 meters
Harvest:
2018/2019
Warehouse:
Alto Paranaíba Armazéns Gerais Ltda
About Cerrado Mineiro Region
Designation of Origin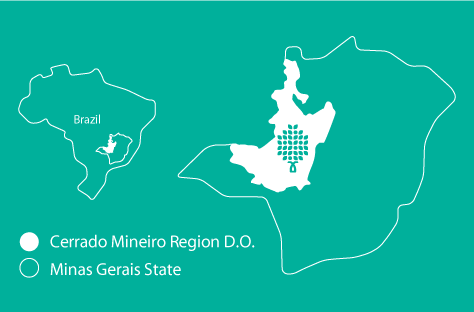 The Cerrado Mineiro Region is a world recognized high quality coffee producing origin - the first "Designation of Origin" in Brazil, located in northwest of Minas Gerais State.
Having well-defined seasons - a hot, wet summer and a pleasantly dry winter - is a strong characteristic of the region. The coffee plantations are cultivated in areas with altitudes varying between 800 and 1,300 meters, the result being high quality coffees with a unique identity.
The coffees are "Origin and Quality Guareanteed" by the Cerrado Mineiro Region - D.O. Regulatory Board.
Our official production process
The Designation of Origin oficial production process emphasizes and values the characteristics of our terroir. Only coffees grown inside the officially delimited area and that followed the rules of the production process defined by our Regulatory Board may have the Cerrado Mineiro Region - D.O. assured by the Guaranteed Origin and Quality Seal.

Producing farms must be located within the Designation of Origin delimited area;

Minimum altitude of 800 meters, reaching up to 1,300 meters;

Coffea arabica is the official specie;

Minimum quality of 80pts based on SCAA* methodology;

The use of good practices and respect to Brazilian laws;

Coffee lots must be warehoused only in the accredited cooperatives;

Only the official coffee bag, identified with the Guaranteed Origin and Quality Seal., must be used.
Origin and Quality reports
OIC Code:
GR12545
City of destination:
Hamburgo, Alemanha
Place of sealing:
Alto Paranaíba Armazéns Gerais Ltda
Lot code:
7898328781551182129