Tomas Eliodoro da Costa
Farm facts
Name: São Francisco
Municipality: Tapira / Minas Gerais
Average altitude: 1284 meters
Average temperature: 21 ºC
About your grower
Tomás considers himself a coffee farmer since his childhood. His grandfather was a coffee grower and Tomás's father was too. Since he has been a child he had heard many stories about coffee. Tomás chose to be the Agronomic Engineer, as profissional career, at ESALQ / USP at the most prestigious national university. The Costa family lives in Campinas (SP) and Tomás is present on the farm every week, to follow the development of the processes of cultivation, production and creation of the property. When he is absent, he has a co-work, who works with him a long time – more than 9 years - and he also has the assistance of one of his daughters, who lives in Araxá (MG), which is a pharmaceutical, with emphasis on veterinary medicine. On vacation, those who enjoy all the delights of the rural environment are the granddaughters, who stay in the wooden house, built 16 years ago. Mr. Tomas is very proud of his property, the coffee he cultivates and the people who, directly and indirectly, make Fazenda São Francisco a place of recognized value in the Cerrado Mineiro Region.
Cupping characteristics
Cup score:
85
Aroma:
Notes of caramel and brown sugar.
Flavor:
Fruity reminiscent of yellow fruit pulp and expressive sweetness.
Acidity:
Bright citrus.
Body:
Viscous.
Production characteristics
Bags:
5
Coffee variety:
Catuaí amarelo IAC - 62
Processing:
Natural
Average altitude:
1284 meters
Harvest:
2017/2018
Warehouse:
Expocaccer Cooperativa dos Cafeicultores do Cerrado
About Cerrado Mineiro Region
Designation of Origin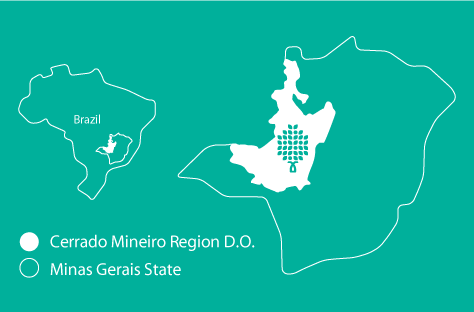 The Cerrado Mineiro Region is a world recognized high quality coffee producing origin - the first "Designation of Origin" in Brazil, located in northwest of Minas Gerais State.
Having well-defined seasons - a hot, wet summer and a pleasantly dry winter - is a strong characteristic of the region. The coffee plantations are cultivated in areas with altitudes varying between 800 and 1,300 meters, the result being high quality coffees with a unique identity.
The coffees are "Origin and Quality Guareanteed" by the Cerrado Mineiro Region - D.O. Regulatory Board.
Our official production process
The Designation of Origin oficial production process emphasizes and values the characteristics of our terroir. Only coffees grown inside the officially delimited area and that followed the rules of the production process defined by our Regulatory Board may have the Cerrado Mineiro Region - D.O. assured by the Guaranteed Origin and Quality Seal.

Producing farms must be located within the Designation of Origin delimited area;

Minimum altitude of 800 meters, reaching up to 1,300 meters;

Coffea arabica is the official specie;

Minimum quality of 80pts based on SCAA* methodology;

The use of good practices and respect to Brazilian laws;

Coffee lots must be warehoused only in the accredited cooperatives;

Only the official coffee bag, identified with the Guaranteed Origin and Quality Seal., must be used.
Origin and Quality reports
OIC Code:
GS45461/C
City of destination:
Austin, United States
Place of sealing:
Expocaccer Cooperativa dos Cafeicultores do Cerrado
Lot code:
7898328781516903277