Cristiane Yuki Minami
Farm facts
Name: Olhos D'água Lote71 Padap
Municipality: Rio Paranaiba / Minas Gerais
Average altitude: 1142.5 meters
Average temperature: ºC
About your grower
Almost 90 years are devoted to coffee growing in the Minani's family. The Yuki's great-grandparents came from Japan, arrived in Brazil, like so many other immigrants, to dedicate themselves to coffee-growing in the inner of São Paulo. And in the 40's the family becomes owner, their first farm was in the North of Paraná. The constant frosts made the Yuki's family decide to seek new agricultural frontiers and they had found favorable conditions in the Cerrado Mineiro. In 1975, Yuki's father, called Niculau Minami has arrived to explore our Region, lands still unknown and many challenges until understanding the coffee cultivation in this new area. In São Gotardo, Niculau got married and constituted his family. Yuki left her homeland to study, but her passion for agriculture brought her back in 2014 when she decided to contribute to the family business and started work with her father and she identified the potential for specialty coffee production on yours farms.
Cupping characteristics
Cup score:
86
Aroma:
Citrus notes.
Flavor:
Fruity and sweet with touch of orange.
After taste:
Persistent.
Acidity:
Citric.
Body:
Creamy.
Production characteristics
Bags:
4
Coffee variety:
Catuaí amarelo IAC - 62
Processing:
Natural
Average altitude:
1142.5 meters
Harvest:
2017/2018
Warehouse:
Expocaccer Cooperativa dos Cafeicultores do Cerrado
About Cerrado Mineiro Region
Designation of Origin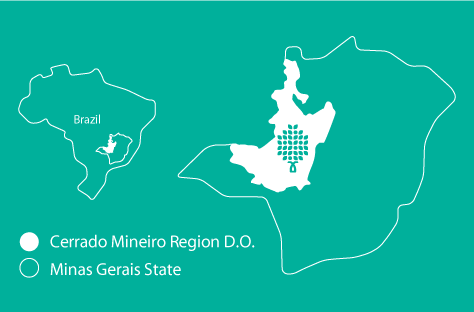 The Cerrado Mineiro Region is a world recognized high quality coffee producing origin - the first "Designation of Origin" in Brazil, located in northwest of Minas Gerais State.
Having well-defined seasons - a hot, wet summer and a pleasantly dry winter - is a strong characteristic of the region. The coffee plantations are cultivated in areas with altitudes varying between 800 and 1,300 meters, the result being high quality coffees with a unique identity.
The coffees are "Origin and Quality Guareanteed" by the Cerrado Mineiro Region - D.O. Regulatory Board.
Our official production process
The Designation of Origin oficial production process emphasizes and values the characteristics of our terroir. Only coffees grown inside the officially delimited area and that followed the rules of the production process defined by our Regulatory Board may have the Cerrado Mineiro Region - D.O. assured by the Guaranteed Origin and Quality Seal.

Producing farms must be located within the Designation of Origin delimited area;

Minimum altitude of 800 meters, reaching up to 1,300 meters;

Coffea arabica is the official specie;

Minimum quality of 80pts based on SCAA* methodology;

The use of good practices and respect to Brazilian laws;

Coffee lots must be warehoused only in the accredited cooperatives;

Only the official coffee bag, identified with the Guaranteed Origin and Quality Seal., must be used.
Origin and Quality reports
OIC Code:
107834/2
City of destination:
Austin, United States
Place of sealing:
Expocaccer Cooperativa dos Cafeicultores do Cerrado
Lot code:
7898328781515496717