Gil Cesar de Melo
Farm facts
Name: Fazenda Espigão do Palmital
Municipality: Campos Altos / Minas Gerais
Average altitude: 1050 meters
Average temperature: 22 ºC
About your grower
Gil still remembers the singing of the ox cars carrying the coffee in the farm of his grandfather. Created in the coffee plantation, Gil did't think twice about continuing in the culture. In 1995 he planted his first 6 hectares, from there to here it expanded the area and always sought to invest in quality. The characteristics of Cerrado Mineiro terroir and the rigorous post-harvest processes are his secrets to high quality coffees.
Cupping characteristics
Cup score:
87
Aroma:
Floral.
Flavor:
Sweet tropical fruit with a hint of raspberry.
Acidity:
Malic.
Body:
Luscious.
Production characteristics
Bags:
16
Coffee variety:
Mundo Novo - IAC 374-19
Processing:
Natural
Average altitude:
1050 meters
Harvest:
2017/2018
Warehouse:
Expocaccer Cooperativa dos Cafeicultores do Cerrado
About Cerrado Mineiro Region
Designation of Origin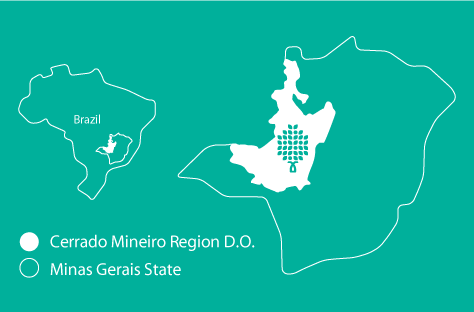 The Cerrado Mineiro Region is a world recognized high quality coffee producing origin - the first "Designation of Origin" in Brazil, located in northwest of Minas Gerais State.
Having well-defined seasons - a hot, wet summer and a pleasantly dry winter - is a strong characteristic of the region. The coffee plantations are cultivated in areas with altitudes varying between 800 and 1,300 meters, the result being high quality coffees with a unique identity.
The coffees are "Origin and Quality Guareanteed" by the Cerrado Mineiro Region - D.O. Regulatory Board.
Our official production process
The Designation of Origin oficial production process emphasizes and values the characteristics of our terroir. Only coffees grown inside the officially delimited area and that followed the rules of the production process defined by our Regulatory Board may have the Cerrado Mineiro Region - D.O. assured by the Guaranteed Origin and Quality Seal.

Producing farms must be located within the Designation of Origin delimited area;

Minimum altitude of 800 meters, reaching up to 1,300 meters;

Coffea arabica is the official specie;

Minimum quality of 80pts based on SCAA* methodology;

The use of good practices and respect to Brazilian laws;

Coffee lots must be warehoused only in the accredited cooperatives;

Only the official coffee bag, identified with the Guaranteed Origin and Quality Seal., must be used.
Origin and Quality reports
OIC Code:
45195/C
City of destination:
Austin, United States
Place of sealing:
Expocaccer Cooperativa dos Cafeicultores do Cerrado
Lot code:
7898328781515496355